NG Tube Placement for Homecare
Using pH to Confirm NG/OG Tube Placement is Evidenced-Based Best Practice
Immediate confirmation of gastric acidity for NG/OG tube placement, without exposure to x-ray or visits to the Emergency Department.
In 2005 and 2010, 45% of all cases of harm caused by misplaced NG/OG tubes reported by the United Kingdom's National Patient Safety Agency were due to misinterpreted X-rays.
RightSpotpH® and RightSpotpH® SmallBore
No Special Equipment Needed
At RightBio Metrics, we recognize that the landscape of healthcare is continually changing, with more services moving out of traditional hospital settings and into patients' homes. As part of our commitment to revolutionizing patient care, our RightSpotpH indicator has been designed with this shift in mind, offering a reliable solution for checking NG tube placement in homecare settings.
The RightSpotpH indicator is straightforward to use, enabling caregivers to check NG tube placement quickly and accurately without any need to leave the patient's home. This not only enhances patient safety but also improves the efficiency of homecare delivery.
No unnecessary radiation exposure involved.
Reimbursement may be available for RightSpotpH® indicators with CPT Code 83986QW if your hospital is reimbursed for bedside glucose testing.
With RightBio Metrics' RightSpotpH®, RightSpotpH® SmallBore, and RightSpotpH® ENFit devices, you can confidently ensure correct NG tube placement at home for a loved one or a patient in your care. Our team prioritizes the safety of individuals of all ages, from newborns to adults, by preventing aspiration pneumonia. With our user-friendly device, you can "lose the whoosh" and trust in accurate results for NG placement verification.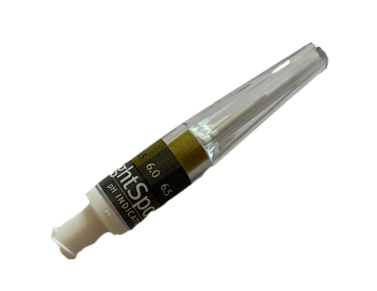 We invite you to read the growing body of evidence that supports using pH to confirm gastric tube placement.